Tonight myself, Rhodri and Tegan went to see Houdini in our local theatre. To be honest we all went for one thing: Evanna Lynch. Potterheads will know her by name, but if you're not a Potterhead: Luna Lovegood.
So a few of you may know that Luna is my fave female character in the books. I instantly fell for her character, and felt some of me was tied with her. I said for years I wanted to audition to play her in the movies. And I did! Of course I didn't even get past the first round (of many haha). But I was in that queue of 15,000 Luna-wannabes, and so was Evy! Until tonight, that was the nearest I'd ever been to her!
The play was fantastic. Having not much knowledge of Houdini past his fame for escaping dangerous situations, it was really interesting to see about his personal life with his wife (who was played by Evy) and his brother. Quite an unpleasant guy really!
Anyway, after the play we all rushed out to the backstage door. Haven't stood there in years! A small gaggle of fangirls were in front of us. They were sweet but a bit scary. They screamed a lot once Evy came out o_x I have met many famous people and never once screamed in their presence... never could get why people do :P the girls were first in 'line' to meet her (she was great, she signed Houdini pamphlets and let the girls film her doing her Luna voice saying Luna quotes hehe) and then the people who were obvs profs at putting autos up for sale >.> finally got to go up to her, with my huge OotP hardback book I've had for ten years waiting to be signed. I apologised for it not being Houdini related haha, but seeing as everyone was going 'OMG I MET LUNA LOVEGOOD' I figured she prob wouldn't mind. Then Rhodri took a pic of us :D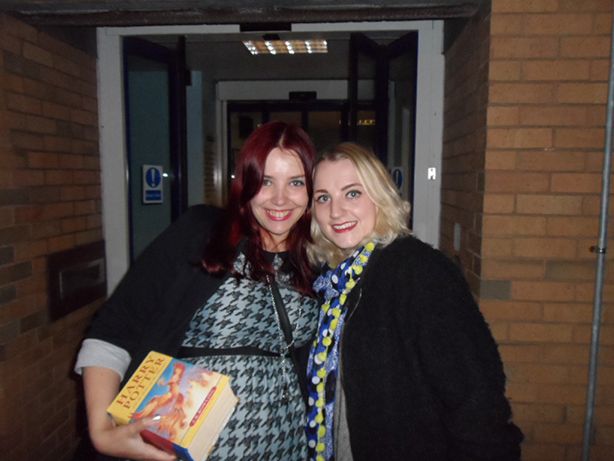 Ahh I'm so excited :D I've met a few HP stars (Robert Pattinson, Matthew Lewis, Devon Murray and Stanislav Ianevski) but this is a major one for me :D I mean she played my second fave HP character! Eek :D